Turn off your TV and Screen Week has been scheduled for April 27 - May 1. Please consider "unplugging" and finding alternative activities.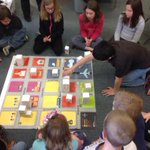 Mrs. Kluth's students working with Maureen Anderson from Zimmermann Company on Junior Achievement. pic.twitter.com/WwwzX85MOh
National Library Week! Make sure your student takes advantage of the activities planned in the library. Thank Your Media Specialists!!