38-30 Berlin wins. Falls season over but our boys have nothing to hang their heads about you put it all on the line tonight.
36-28 Berlin up with 1 min left.
Start of 4th: 22-15 Berlin still up but our shots are starting to fall.
8-0 Berlin end of 1st quarter. Come boys let's make some shots.
Tonight's Regional final starts at 7pm Berlin High School.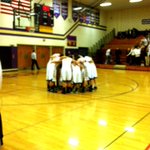 2nd try this pic wouldn't post last night. Our BBB team getting psyched for the game. pic.twitter.com/JI9J1v8jwS
Congrats Drew & Alex on their performance at state. Both placed 4th this afternoon. Congrats to all our guys: Alex, Brandon, Mitchell, Drew