The girls season comes to an end with a heartbreaking loss to 57-53 to Berlin. The girls showed a Tom of heart coming back from down 10.
53-48 Falls down with 1:30 left in 4th. Come girls we believe in you.
Start of 4th 41-36. Way to claw back in girls now let's finish it in the 4th.
Berlin 31-23 up at half. Lets kick it in gear in the 2nd. We're behind you.
Falcon girls down 27-13 middle of 2nd quarter.
StaciHasler Everybody come out and support tonight at the high school! 7:00 against Berlin! Regional finals!!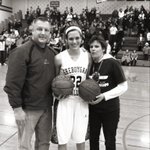 Congrats on the win last night girls. Lets do it again tonight. pic.twitter.com/09gwzQ2g5H