Congrats to the Golf team for winning the 1st EWC meet today at The Bull: SF 166 Ply 177.
Tough loss for softball girls against Sheboygan South today.
Tennis drops match to She South 5-2.
Big win for Falls soccer. Girls down BayPort 2-1 in ot. Congrats girls and get ready for conference to start tomorrow.
Softball at Sheboygan South start time of 4:30pm.
JJarosch Seniors-going to school for education? Have a local gen scholarship for that due date May 1-see counseling website for more info.
JJarosch Seniors-work in Sheb or have a parent who is a Sheb Chamber Member? Have a gen scholarship for that - check counseling website.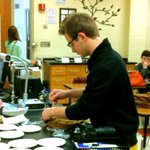 Etude_MsJohnson Thanks, Caleb, for sharing your craft and bringing us together this #EarthDay morning! #English12 pic.twitter.com/gsPxJANvSY