Girls Soccer dropped a tough one to Plymouth today: 2-1.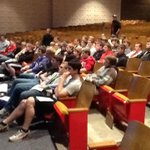 Football team listening to leadership presentations. Rostek and McCue presenting on courage and responsibility. pic.twitter.com/n2AsbcYR1X
talked it over w/ Coach Mentink: today's varsity soccer game will be played on the JV field and JV will be played on the back field
Girls Soccer at home vs. Plymouth today 5pm.
Good Luck today at Waupun Softball.