SFHS Teachers will be tweeting the 12 Days of Creativity. Teachers will be hi-lighting student creativity. #12daysofcreativity
Corp. Execs ranked Problem Solving 7th & Problem Identification 1st in wanted attributes. Want people who can see problems b4 they occur.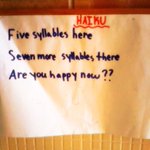 Here's a pic an English teacher could enjoy. @sfhs_mshogue @Moore_SFHS @MsMeyerSFHSEng pic.twitter.com/SdpoWfkNcf
Friday Nights Dance will be from 9-11pm. Doors closed 30 mins after the BBB game. No Guest Passes and School Dress Code.
Tomorrow: WR home versus Plymouth and GBB at Plymouth.
Congrats on the win last night BBB. This Friday the Boys will host Plymouth.