Nate_Woelfel Girls basketball: Sheboygan Falls 35, Two Rivers 30. End third.
@LucasLAX21 nope, Hughes doesn't have a twitter account yet.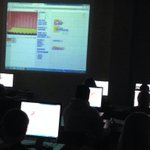 bludvik Ms. Caine's math class combining programming with creativity and Xmas! #12daysofcreativity #HourOfCode pic.twitter.com/Ydwp0wBkgP
bludvik Computer Ed Week is ending. SFSD Totals = 22 classes and 500 students/teachers participated. Code on! #HourOfCode
bludvik SFHS is hitting Hour of Code hard today. We are part of 10M students participating! #HourOfCode
Tomorrow's events: WR at home for the Falcon Multi-Dual.
Tonight GBB travel to Two Rivers. Good luck girls.
sfhs_mrpfister Coaching class: remember we need volunteers for swimming today during enhancement. Bring suits and towels please.