CalebNysse Finally pulled out that Win!! Feels great, big S/o to @Little_Madden1 puttin up 20!! #nicegame
JJarosch ACT Testers @ SFHS -don't forget to bring your photo ID, admission ticket, calculator, snack, & pencils . Be here by 7:50 at the latest!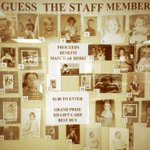 Monday students can enter the "Guess the Staff Member" contest winner receives a Best Buy gift card from FBLA. pic.twitter.com/kh0qI4t3Up
Saturday Events: WR EWC Invite at Two Rivers, BBB at West Bend East, GBB vs. Sturgeon Bay
Monday is the start of FBLA week: Multiplicity Day...get as many of your friends to dress alike.
Good luck tonight BBB at Two Rivers tonight.
ProfeDell ¡Qué partidazo anoche de las LADY FALCONS! ¡Qué los CHICOS tienen la misma suerte esta noche! @sfhsfalcons