WIAA 1st day results: Fitzgerald lost 3-1, Jake Becker lost 4-0, Eric Klemme wins 1-0, Brady Koller 3-1.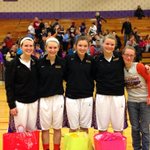 Thanks for all the terrific memories, Seniors. Good luck with you future plans. pic.twitter.com/xzdcCd9j2f
GBB lose a touch game to Campbellsport 45-51. 1st round of playoffs begins on Tuesday.
Unfortunately Alex Fitzgerald loses in round one 3-1.
GBB finish off their regular season tonight against Campbellsport. They will be wearing orange socks to show their support of Safe Harbor.
Good luck wrestlers at state this weekend!