Students Homecoming is next week be sure to listen to the announcement regarding the week's activities.
Soccer is at Kiel today, 4:30pm. Varsity only no JV match.
XC Runners head over the Sheboygan Lutheran today. Race starts at 4:15pm.
Tonight's Workbound Sophomore meeting at 6pm. Returning Workbound students meeting begins at 7pm.
Tonight tennis is at Chilton, Soccer is at Kewaskum, and Volleyball is at Kiel. 9th Football host New Holstein.
ryan_flynn Congrats SFHS Volleyball on the win tonight over D2 8th ranked FVL, very impressive showing!!!! #keepworking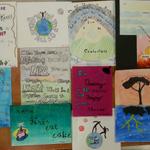 FallsArt Music is powerful. 8th gr chose personal, meaningful song lyrics & designed imagery/font that reflects song's mood. pic.twitter.com/PU6Q5AS89h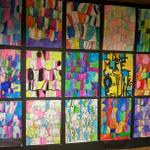 FallsArt Ask your 7th grader what they chose for their "meaningful quote". We emphasized #watercolor control, neg space, font. pic.twitter.com/dmg4Qyaa5m
Tonight VB takes on Fox Valley Lutheran in a NC match. Good luck ladies!
Falcon Soccer hosts Howards Grove, Port Washington, and Green Bay West.
Awesome job with The National Anthem Mike Winkler. Also loved the way the student section joined it to sing. Great crowd tonight.
Congrats football on the win over Campbellsport, 34-12.
Good luck to football tonight as they take on Campbellsport.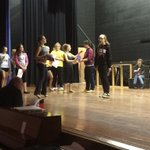 Early rehearsals for the Fall musical, Cinderella. pic.twitter.com/0WgubNfI7r
Falcon soccer team hosts EWC leading New Holstein at 4:30pm. Good luck boys.
JV Volleyball Quad at Two Rivers and Frosh VB Quad at home both start at 5pm.
Busy day today for athletics: XC @Chan4TheViking for the Bob Burzynski Invite, Tennis is at Two Rivers for EWC match, 9th FB Campbellsport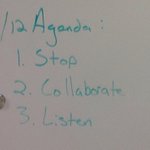 Great class agenda. So "take heed, cause I'm a lyrical poet; Mr. Coultas is on the scene in case you didn't know it" pic.twitter.com/VANPAXnbTU
Congrats VB team on last nite's win over Csport. More importantly congrats on the great fundraising program to support cancer research.
Tonight Girls Volleyball hosts Campbellsport in there 'Gold Game.' In support of Cancer Research. Frosh/JV: 5:45pm Varsity 7:15pm.
Today Boys Soccer hosts Waupun at 4:30pm.
Congrats to the Girls Tennis team on winning the Grafton Invite yesterday. The team won all 3 matches and girls had combined record of 19-2.
Today's tennis meet has been canceled.
Tonight is parent's night for the Football team as they take on Plymouth. Parents please be at the field by 6:30pm.
Today the Girls Tennis team plays at home at 3pm.
Good luck to the XC runners as they head to Mayville today.
Way to go girls VB..beats Two Rivers 3-0.
Tonight Volleyball host it's first home conference match vs. Two Rivers. Frosh/JV 5:45pm and Varsity 7:15pm.
Tonight's JV soccer game vs. Sheboygan Christian will be at 4:15pm.
Girls tennis will be hosting Kewaskum today at 4pm. Good luck today girls!
Today the Soccer Team hosts Campbellsport at 4:30pm.
Good luck to the boys football team as they they take on Kewaskum tonight 7pm in Kewaskum.
Busy day today; XC at Kiel, VB at Kiel, Girls Tennis vs. Plymouth, Frosh FB vs. Kewaskum, & Soccer vs. Kiel.
Musical: Sign-up for an audition time on the drama wall across from the Counseling office.
Auditions for this years musical: Cinderella will be held on Monday, September 8th in the HS choir room. Cont'd
JV/Frosh VB Tri will be today at high school. We will be hosting Random Lake and Hartford Union. Action starts at 4:30pm.
Tonight you can catch the Soccer team hosting the Kewaskum Indians. 4:30pm at the Elementary School.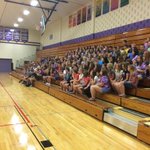 Freshman and their Mentors getting ready for the 1st day. #classof2018 pic.twitter.com/gO8kJaNZXv