JJarosch Seniors - just updated general scholarship listing on website. There are 48 available right now!!!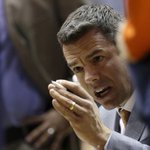 PCBrettC Tony Bennett's five pillars of success a foundation for how to live and act. post.cr/1CWq6HR pic.twitter.com/6FxCkKe1m2
Please thank our CTE Teachers down in the E-Wing for everything they do for our students from: Art, Ag, Engineering, Culinary, & Shop.
This Week is School Counselor Week. Help us celebrate by thanking our great school counselors @JJarosch