On to New Holstein! Falcons come back from a double digit second half deficit to win 78-72 at Cedar Grove Belgium.
Great season young Lady Falcons! Girls lost a close game to Valders 33-42. No seniors ... The future is definitely bright!
Congratulations Kaleb Ison on qualifying for the WIAA State Tournament! Kaleb finished his appearance with a 1-2 record.
Thank you Pit Stop Pizza for donating 25 pizzas to the HS Athetic Department to celebrate our HS Band this winter s… twitter.com/i/web/status/8…
The seniors are presented to the home crowd on Senior Night. Thank you seniors for your time and commitment to our… twitter.com/i/web/status/8…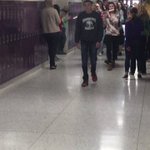 The Walk of Champions! Good luck Kaleb Ison at the WIAA State Wrestling Tournament! #GoFalcons pic.twitter.com/GG57wl57hU
The journey continues! Lady Falcons win at Brillion 66-61! The girls travel to Valders Friday for Regional SemiFi… twitter.com/i/web/status/8…
Thank you to the Falcons and Raiders communities for raising over $600 at our ACS Night! Good luck to all teams as… twitter.com/i/web/status/8…