ACTStudent Choosing a career or a college major can be tough. Check out act.org/profile for help on these major life decisions.
MyBigFuture Now is the perfect time to think about next year's classes. Check out simple ways to turbocharge your schedule. bit.ly/1dF59BI
College Discovery Days at LTC on Feb 13 & 20-can choose area of interest-health, law, STEM, mfg, business, IT & more! gotoltc.edu/discoverydays2…
We will be getting out registration forms to students for next year next week Tuesday morning(1/28). 1st - 9th, 2nd - 10th and 3rd - 11th.
ACTStudent Seniors, which major will you pick when you attend college? Find majors that match your interests at ACTProfile.org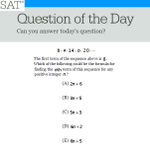 CollegeBoard Do you know the answer? Follow @SATQuestion for more each day. #SAT #questionoftheday #college #education pic.twitter.com/y4yAUOf3YD
Juniors & Seniors-reminder that Financial Aid Planning Night is tonight at 6:00 in Aud. Will have great info for how to afford college.
Seniors-just updated the gen schol on website-look at local ones Kohler Credit Union, WPS, WI Elks, & more!