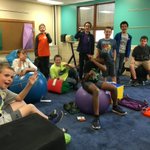 Lego League Participants enjoy their bust up party in the student lounge! #fallsfalcons pic.twitter.com/HGW5pp5QYV
Reminder: Parents need to pick up all medications from the nurse. Any left behind will be disposed of prior to the start of the 2017/2018.
5th grade students enjoying root beer floats as part of a science experiment dealing with the physical and chemical… twitter.com/i/web/status/8…
It's National School Nurse Day! We are so thankful our school nurses and the care they provide for our students everyday.